4.1.  Check that the mains voltage is the same as
the voltage stated on the socket  fusion welding
machine plate.
4.2. DEVICES FOR USING THE SOCKET FUSION
WELDING MACHINE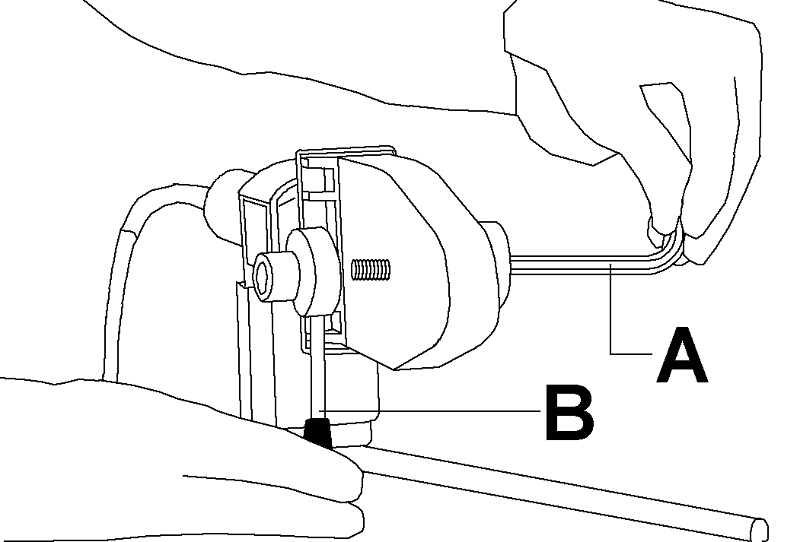 a                b           
a) Fork.Suitable for welding on the floor.
b) Bench bracket. For bench work.
c) Platform. An alternative to the fork.
4.3. Fit  the socket  fusion welding machine to the
chosen device.
4.4. Fit the M/F bushes according to requirements.
N.B.:  The  surface  of  the  bush  in  contact  with  the welding machine must be kept clean at all times.
4.5.  Clamp the bushes tightly to the Socket  fusion welding machine (using a wrench) to obtain the necessary heat exchange for the temperature
required for the bushes
A: Hexagonal wrench
B: Pin unit for bushes
4.6. Plug into the mains
4.6.1. TE MODELS
 

 

Show  LO v after power on

。

After 10-20 minutes, the heating plate starts to show the temperature, reaching the set temperature and then stabilizingPress the set keyto enter the tempering mode and set the temperature according to the + -.Press -  to switch mode.
4.7.  10 - 15 minutes  after the socket  fusion welding machine   is switched on ( or in any case when it has reached operating temperature).
All plastic welding machines supplied are set to a bush temperature of about 260° C.
Check that the edge of the  bush is as specified by the manufacturer of the pipe to be welded.Use a
digital  thermometer
Precision temperature adjustment  between 180° C
and 290° C is possible. Use a digital thermometer
to measure even slight variations